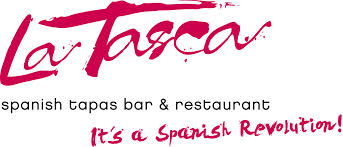 Quintessentially Spanish, La Tasca's fresh and exciting menu offers something for everyone.
In the last year, La Tasca has been reinvigorated with a new emphasis on fresh, Iberian-sourced ingredients resulting in a culinary 'Spanish Revolution'.
With dishes from the sea, the field and the garden, La Tasca's tapas dishes are sincerely Spanish.


The chefs behind the scenes at La Tasca have searched all over Spain to find the best local producers, and have sourced some truly authentic produce to use in each of their new dishes. Try their succulent Salamancan Iberico pork shoulder steak, or the Galician pan-fried squid with chorizo, garlic and chilli in a deliciously fresh squid ink and wine sauce. Then, there's the authentic paella, served at your table the traditional way, in a pan with a lightly charred base. ¡Delicioso!

Since 1993, La Tasca have been providing customers with vibrant Spanish dining experiences. With over two decades' worth of experience, they understand how to cook the finest Spanish food and throw the most memorable fiestas. Rise up and join the Spanish Revolution!


- 25% off the total bill
- Excludes Saturday
- Excludes bank holidays and special event days such as Valentines Day, Mothering Sunday, Fathers Day, Christmas Day, Boxing Day, New Years eve, New Years Day etc.
- The offer is also unavailable throughout December.
- Maximum group size of 8 people
- Not available in conjunction with any other offer, promotion, or voucher
Visit your local La Tasca here
Click on any of the below links to access specific restaurants page.
Save at over
6,000 restaurants...
Save at over
6,000 restaurants...