Bringing a taste of Italy since the early 1990s, there is no better place than Bella Italia to enjoy the simple pleasure of eating out with family and friends
Bella Italia are passionate about bringing you the true taste of Italy, so you can experience the love, food, and magic of this amazing country.
With over 100 restaurants nationwide, you can now enjoy the new menu featuring Bella's best ever Carbonara, richer and creamier made with fresh tagliatelle, topped with leeks and crispy pancetta, the Lasagne which is freshly made in house every day or the Roma pizzas, thinner and crispier - just like the ones they make in Rome.
Whether it's a romantic meal for two, a family gathering or great conversation with friends - Bella is the place to be, with guaranteed good food, welcoming service and warm Italian hospitality.
1. This card entitles members to 25% off your bill at selected Bella Italia restaurants.
2. In Scotland the discount does not apply to alcoholic drinks.
3. Valid every day after 12pm except Bank Holidays, Mothers Day and Fathers Day.
4. Maximum of one card per eat-in table, valid for up to 6 guests.
5. Card cannot be accepted in conjunction with any other offer or set menu e.g. lunch, the kids menu, or Tesco Clubcard Deal token.
6. This offer is not valid on takeaway/delivery.
7. Not valid on all breakfast items.
8. The offer is not available at the following Bella Italia locations on any day: airports, Center Parcs, Edinburgh Northbridge, London Argyll Street or Portsmouth.
9. The offer is not valid at Blackpool Victoria Street between 22nd-28th April.
10. The offer is not valid at Bluewater between Friday and Sunday, or any time between the 5th and 22nd April.
11. The offer is not valid after 5pm at Glasgow Sauchiehall Street between the 18th-20th April.
12. The offer is not valid in London South Kensington between the 5th-28th April.
13. The offer is also not valid in Cardiff Old Brewery Quarter or Sheffield restaurants on event days, or Cheltenham during festival week.
14. Not valid between 5-7.30pm at the following London restaurants: Cranbourn Street, Irving Street, Shaftesbury Avenue, The Strand, South Kensington, St. Martins Lane and Wellington Street.
15. Not valid at Bluewater Friday–Sunday.
16. Not valid at Edinburgh Hanover Street from Fridays-Sundays.
17. Not valid in Coventry during shows at the Belgrade Theatre.
The full list of participating restaurants is below.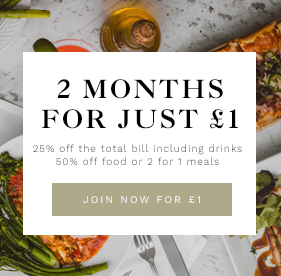 "Bella Italia has been a family favourite for nearly 20 years, serving delicious Italian food, just like mama makes it."