Chef & Brewer are a collection of modern British country pubs that know a thing or two about great food and drink

Over 30 years ago British pubs were closing in many villages and towns. Amongst these were some of the most beautiful and historic pubs in the UK. The folk at Chef & Brewer decided that they could not let this happen as once those pubs were lost to British life, they could never come back; and so Chef & Brewer was born.
Chef & Brewer is a carefully curated collection of over 140 pubs throughout the UK, mostly located in beautiful countryside or villages. Each pub is specially selected for its beautiful location, its historic building or its charm in general. Chef & Brewer pubs provide an antidote to the hassle and stresses of modern life, offering an informal place where guests can relax and be themselves with family or friends.
Chef & Brewer aim to bring the best of a British country pub to their guests, featuring an authentic experience, a relaxing atmosphere, great food & drink, and a very warm friendly welcome. Whatever the occasion, important or everyday, Chef & Brewer make it special.
Whether it's food or drink, the Chef & Brewer's distinctive menus are sourced, prepared and served with care and pride, offering something for every taste and occasion.
- 25% off the total bill
- Maximum group size of 8 people
- Excludes Saturday and Sunday
- Excludes bank holidays and special occasion days
- Offer not valid from December 9th until January 2nd.
- Offer not available in conjunction with any other discount, promotional offer or voucher
- Please note that the 25% discount off of the total bill applies only to drinks which are ordered when dining
- New Menu available at all sites excluding the Unicorn, Wilmslow

The full list of participating restaurants is below.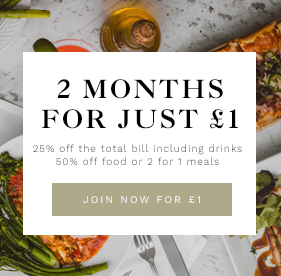 "Our chefs deliver a menu full of classic dishes with a modern twist, and a delicious range of seasonal specials."