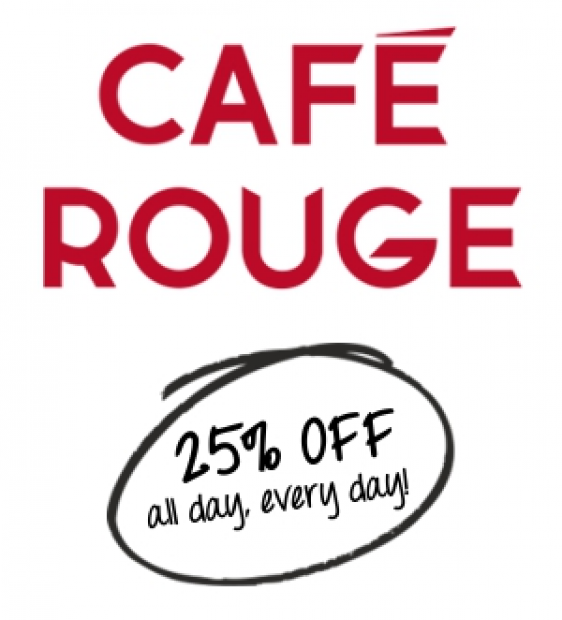 Latest News: Cafe Rougé: Reviewed by Gourmet Society
As the all day, every day, offer is here to stay, we thought it would be a great opportunity to find out what Café Rouge is really about, and this is what we came up with...
Think of French cuisine and it's easy to think of fine dining embodied by the likes of Michel Roux or Jean Christophe Novelli; starched white table linen and a formal, if exquisite gastronomic experience. But let's face it, for most of us, this will be a special occasion rather than an every day event. So what if you want something more casual and at a price you don't have to think twice about, should French food be on the menu?

Café Rouge is a household name immortalised in literature as Bridget Jones' favourite bolt hole and whose success has spanned over 20 years. And with more than 120 high street sites - many with outdoor seating - and a determinedly casual approach, perhaps it's not surprising. It's been a little while since I've visited a Café Rouge and I thought it would be a good idea to invite some friends to lunch and go along to see what casual French fare is all about and of course, why Bridget was such a fan. I wasn't too sure what to expect..
Upon entering my nearest site, it's clear to see the Parisian references at Café Rouge; from the red velour chairs, extensive and comforting use of wood to the prints on the walls, even our waiter was French. The decor is comforting rather than impressive and it's certainly an endearing place and probably more authentic for it. There was even a chalk board and a selection of toys to entertain younger guests. The restaurant on a weekday lunch time whilst not full, has a gentle buzz of conversation from the broad range of diners; a group that spans three generations; 20 something ladies lunching; and a solitary male relaxing with a paper whilst his meal is prepared to name a few. Unobtrusive music adds to the aural tapestry.

This is not a mirror-clad restaurant with feature walls and aspirations of glamour that makes one feel underdressed by comparison - the whole atmosphere is laid-back and wonderfully nonchalant. Having said that a number of restaurants are undergoing a "revolution" with a more contemporary design that still aims to offer the same welcoming feel and casual atmosphere that has long been part of the chains appeal. Perhaps these will end up being the blue print for the future for the rest of the sites?
I had a few preconceptions about a menu consisting solely of mussels and boeuf bourguignon, but in reality there was far more choice than I'd expected, including a good range of breakfast options. Alongside the more traditional French fare were an assortment of other dishes, all with a French accent; a burger draped in Camembert served in a brioche bun; a half roast chicken basted with a herb rub and rich garlic butter; scrambled eggs and bacon with rosemary herb potatoes.

French dining is a relaxed affair, and relies on the understanding that you can be there for a quick lunch during a work break, or a leisurely afternoon of grazing in good company. This is reflected in the clever balance of the menu; lighter meals of tarte Provençal or Niçoise salade sit next to boeuf bourginon and steak frites without feeling as if there is any great divide between the two. You would certainly be hard pressed to find anyone who couldn't find something they liked. The wine list draws on some lesser known regions while staying exclusively French, whereas the beer list extends slightly further east to include some tasty offerings from Belgium.
Starters are simple, relying on strong French ingredients and clever pairings. We're tempted by the melted blue Burgundy cheese with bread and apple for dipping, as well as the prawns in garlic butter but in the spirit of experimentation go for the sharing board. When this arrives, heavy with a selection of charcuterie, pâté, tapenades and bread, there is a momentary pause as we weigh up the necessity of using cutlery but of course there is no need, and what better way to relax with friends than over the simple pleasure of breaking bread.

The staff are reassuringly confident, friendly and engaged and they obviously know the menu inside out, being more than happy to offer recommendations and advice on wine pairings. We're persuaded to try the "Burger Normandie"; succulent Scottish beef which has been given a French twist with a melting chunk of salty Camembert and ribbons of smoked ham. The frites are crisp and skinny, and also accompany the 6oz flat iron steak with garlic butter. For the sake of balance we also try the confit duck, which despite the warm weather is light and flavoursome and complimented by dauphinoise potatoes, crisp sugar snap peas and a rich spiced cherry jus.
After our main meal we decided to make the most of the elusive British summer and enjoy dessert and coffee sat outside in the ample on-street seating area. A plus point of most Café Rouge restaurants is the outdoor seating, which is ideal for the summer months ahead. Sunglasses on, cappuccino in hand watching the world go by whilst enjoying a fabulous passion fruit torte, or sampling the trio of mini deserts it's easy to forget life's woes.

So what is the conclusion, why should one visit Café Rouge? Or maybe the question should be, what does a casual French restaurant have to offer in a high street dominated by pizzerias? Well it seems to me that French cooking has had such a strong influence on British cuisine and that as we are more European than ever before, it is certainly not novelty factor that will entice you, but rather a welcome familiarity peppered with the delightful mix of quality British produce and quintessentially French ingredients all served with care in a relaxed setting. Essentially if you like unpretentious food and drink and a relaxed atmosphere, then you will probably like Café Rouge.


Of course we also used our Gourmet Society card. A sharing platter starter, 3 mains, 2 desserts, 4 glasses of wine, 2 ciders and 3 cups of coffee came to a grand total of £75 with a saving of £25.

Well worth it!

Click here to find your nearest Café Rouge.