Latest News

Ever wondered what's for breakfast, lunch and dinner world wide?
As a member of the Gourmet Society, you're part of a community of foodies; and like all communities we want you to share your thoughts with each other! Writing reviews not only helps other members choose a restaurant for their night out; it also gives you a chance of winning a corking night in, with an at-home wine tasting for six people!
In the spirit of National Vegetarian week, we have collected together our favourite vegetarian restaurants where you can save £££s. From fine-dining bistros to contemporary and casual cafés, there's something for everyone. We've also taken advice from our resident vegetarians here at the Gourmet Society, to bring you the best of our chain restaurants for vegetarian dining, including some of our favourite dishes at these national favourites.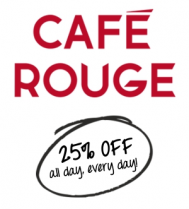 As the all day, every day, offer is here to stay, we thought it would be a great opportunity to find out what Café Rouge is really about, and this is what we came up with...
Just because you're on a restricted diet, doesn't mean you should miss out on Gourmet Society savings! In the spirit of Coeliac Awareness Week, we have gathered some information from our partner restaurants and Coeliac UK to help our gluten-free members make the most of their membership. Here you'll find information about independent restaurants that pride themselves on their gluten-free offering, national chains who cater to specific dietary needs, plus some information on different world cuisines that are best suited to a gluten-free diet.